None of us can predict the future, but estate planning allows us to anticipate the possibilities and order our lives accordingly. Specifically, estate planning allows individuals to plan for how their assets will be managed and distributed in life and even after their death. The goal of estate planning? Ensuring your wishes are fulfilled, your loved ones are taken care of, and your legacy secured, no matter what.
Dedicated Estate Planning Lawyer Serving Fremont
The estate planning process can be complicated, and to ensure your goals are upheld, it's critical to find an expert estate planning attorney. Singh Law Firm is an experienced estate planning law firm, serving the needs of clients throughout California. We're known not just for the depth of our expertise, but for the empathetic, client-centered approach we bring to each family we have the honor of serving.
What is Estate Planning Law?
When we talk about an estate, we're talking about the real, personal property that a person possesses at the time of their death. Thus, the process of estate planning is all about managing this property. An estate planning law firm like Singh Law Firm may employ tools and legal frameworks like wills, trusts, and other documents to coordinate the transfer of assets in a way that offers maximal benefit to your loved ones, and ensures that you can leave the kind of financial legacy you want. Additionally, estate planning law may provide tax strategies, helping individuals maintain the full integrity of their assets.
Finally, note that a trust and estate planning attorney may help clients plan for how their own end-of-life decisions are made, including decisions about how their financial and medical needs are carried out should they become incapacitated. Documents such as powers of attorney are used to pursue this goal.
Types of Estate Planning Law
At Singh Law Firm, we provide our clients with expertise in all types of estate planning law. Some examples of our services include:
● Will-based estate planning
● Pour-over wills
● Financial Powers of Attorney
● Medical Powers of Attorney
● Advance Healthcare Directives
● Trust-based estate planning, including revocable and irrevocable trusts
● Living wills and revocable living trusts
Call Us Today To Establish Your Estate Plan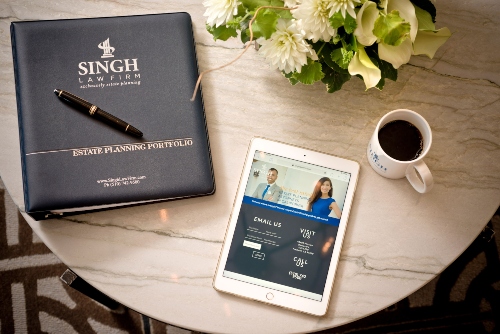 Consult an Estate Planning Lawyer
Our estate planning lawyers in Fremont can also provide guidance on guardianship issues regarding minor children; tax strategy and planning; and beyond. Our goal isn't to dictate a particular approach to estate planning, but rather to pair clients with a trust and estate planning attorney who will listen to their needs, understand their goals, and provide them with the tools and guidance to leave a legacy for their loved ones.
If you're ready to talk about your estate planning needs, we welcome you to contact our estate planning law firm at your next convenience. Speak with an expert who can help you realize your long-term financial goals.
Why Do We Need an Estate Planning Lawyer?
While many individuals choose a do-it-yourself approach to estate planning, it's best to work with an expert. Professionals know all the tools and legal frameworks that can help you minimize estate taxes and ensure your loved ones don't have to take your estate through probate court. There's no better way to leave a legacy for your loved ones than by working with an advanced estate planning attorney.
Estate Planning Lawyer in Fremont
To speak with our estate planning lawyers in Fremont, we welcome you to contact Singh Law Firm today. Call our law firm directly at (510) 742-9500 or use the form below and we'll reach out to you. We look forward to speaking with you soon about your estate planning needs and goals.