The Importance of a Comprehensive Will
One of the most important aspects of the estate planning process is the creation of a will. Without a comprehensive will in place, your assets will be distributed amongst your surviving relatives as determined by state law, which is likely not in accordance with what you would wish. A will is a legal document that ensures the preservation of your hard-earned wealth and the protection of your legacy. Creating a comprehensive will can be a confusing process without legal guidance. Errors in drafting a will can lead to legal problems, and the specific wording involved can help your heirs avoid future challenges. A Fremont Wills and Trusts Lawyer can assist you in the writing and administration of your will to make absolutely sure your wishes are followed in the event of sudden loss of life. Life is uncertain, and it is best to make these plans as early as possible when you have children.
Our Wills and Trusts Lawyer looks over your documents to ensure that you haven't missed any significant details. Hiring a Wills and Trusts Lawyer is especially significant if you wish to set up a trust. Since there are various types of trusts, you will need expert guidance on which type is the most suitable for your situation. Our expert Wills and Trusts Lawyer can also guide you on how to change the terms of a will or a trust if necessary.
While a will serves as a means to distribute wealth and property upon death, it can serve a number of other functions. Some individuals choose to use their wills to comfort their families and help them transition into a new life without them. With this in mind, wills can range anywhere from a single page simply handing over all assets to one person to sizeable and elaborate volumes specifically mapping out future business and family plans. A will usually describes the entirety of an individual's estate, designates the people who will receive specific assets, and includes special instructions for the administration and management of the estate.
By making a will with our Wills and Estate Lawyers, you are protecting your loved ones and will free them of financial stress during emotional distress and bereavement.
We are good listeners, and our Wills and Estate Lawyers will create an environment to assist you in feeling comfortable and calm about your decisions. We want you to feel completely involved, and secure in the knowledge that your intentions have been clearly expressed in your Wills and Trusts, regardless of how complicated your situation might be.
Call Us Today To Establish Your Estate Plan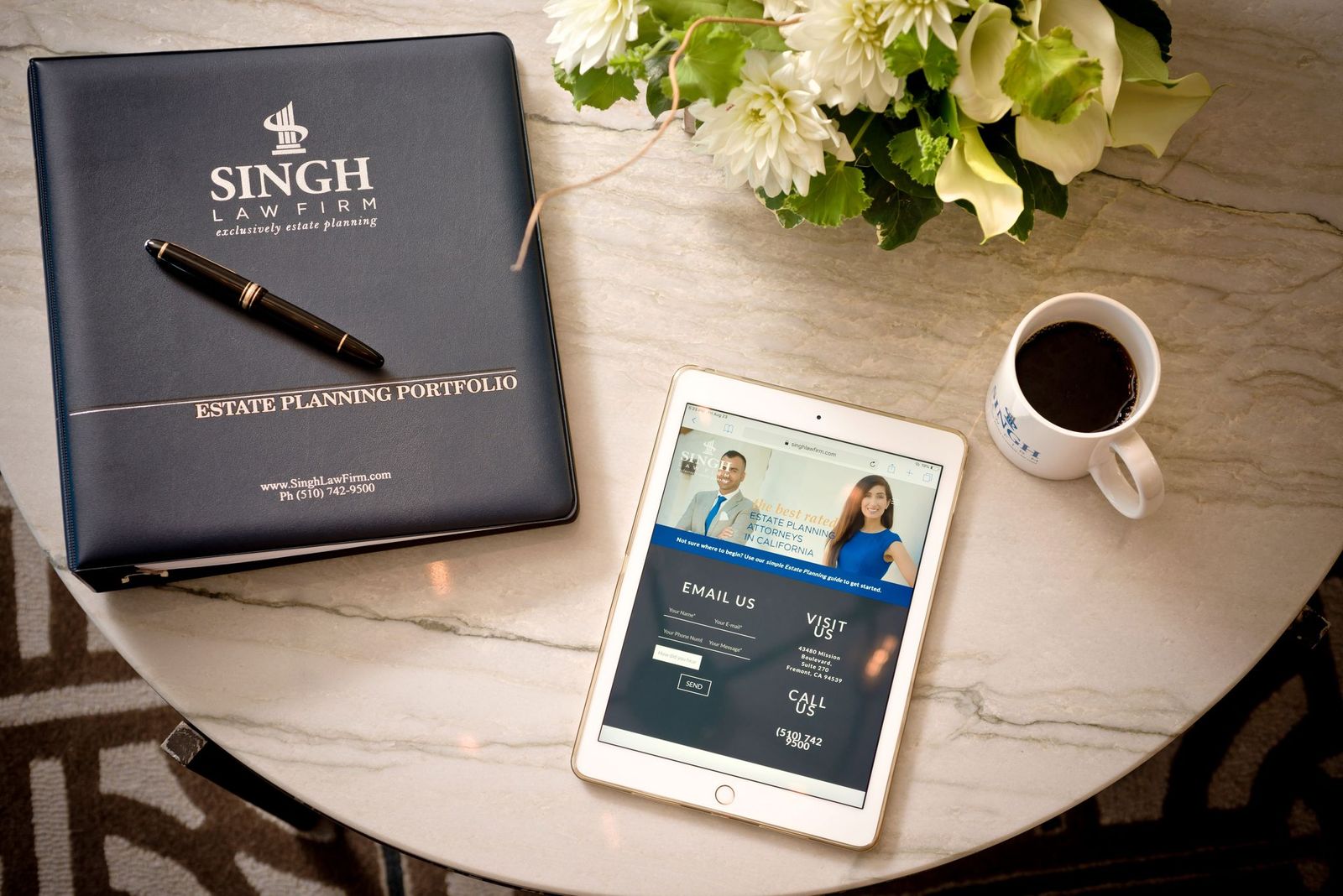 Wills and Estate Lawyers Serving Fremont
It is very important to secure sound legal counsel when writing your will. A will must follow specific state and federal guidelines in order to be upheld in state probate court, and also if challenged. At the Singh Law Firm, we have a comprehensive grasp on the laws surrounding the creation of Wills and Trusts. Our Wills and Estate Lawyers can walk you through every step of the process to help protect your heirs, and carry out your actual wishes with regard to the distribution of your estate. Estate planning is a way to secure the assets you worked all your life to attain and a way to ensure the security of your family and beneficiaries. Our team of dedicated Wills and Estate Lawyers ensure that your estate plan leaves nothing to risk and shields your family from unnecessary financial or legal issues.
Contact a Fremont Estate Planning Attorney
if you would like to discuss the advantages and disadvantages of a revocable living trust. Call Us Today (510) 742-9500