Congratulations: Your child has just turned 18! This is a huge milestone, both for your son or daughter and for you as a parent. And while there is much to celebrate, there are also some tricky transitions for you to navigate. And some of these transitions may call for the assistance of an estate planning law firm, such as Singh Law Firm.
For example, in the eyes of the law, your "child" is now an adult. This effectively means that you have lost all legal rights over this person you have protected and cared for over the past 18 years. Specifically, you've lost the following legal rights:
Discussing your adult child's healthcare with any medical professional/hospital
Making healthcare decisions for your adult child
Signing legal documents where a legal representative of the adult child's is required.
None of this is a bad thing, necessarily; it's good for your child to become independent, and for them to have autonomy over their own legal and healthcare decisions. The problem arises if accident, injury, or illness leaves your grown child medically incapacitated, unable to voice their own wishes, preferences, or decisions. As a parent, you don't have the legal right to step in and speak for them.
To help you navigate this new normal, our estate planning attorneys have put together a set of resources, which we call the College Pack Plan. Singh Law Firm's College Pack Plan is a set of documents which your 18 year old establishes, granting you legal power over their healthcare decisions, authorizing release of their medical information to you, and allowing you to make financial decisions for them/sign their names in situations where their specific authorization would otherwise be required. These legal powers are in effect only if your grown son or daughter becomes medically incapacitated.
Elements of The College Pack Plan ™
Here's what's included in the College Pack Plan ™ from Singh Law Firm:
Call Us Today To Establish Your Estate Plan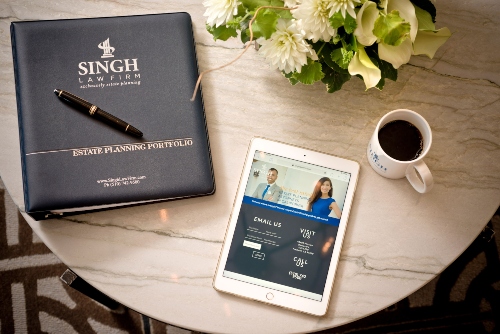 Downside of Not Having Singh Law Firm's College Pack Plan ™ in Place
This set of estate planning documents can be enormously advantageous for your whole family, and we'd recommend acting sooner rather than later. Why? Well, consider this: If your child were to become sick, you would not be able to make healthcare decisions for them, and you would not be able to sign documents on their behalf. If you were in such a situation, they would require you to go to court to get the court's "permission" to make these decisions for your own adult child. This legal process is called a Conservatorship. A Conservatorship can take several months and cost ten-of-thousands of dollars to obtain. During this time, you will essentially be powerless to intervene on your adult child's behalf.
This is a great example of how estate planning can help you prepare for all possible contingencies. Of course, nobody ever plans for their adult child to have serious medical issues, but anything can happen, and it's best to plan ahead. That's what our College Pack Plan ™ is all about.
We'd love to tell you more about these resources, and about other ways we can help your family get ready for tomorrow.
Reach out to Singh Law Firm whenever you're ready to chat.