Revocable Living Trust vs. Will
There are many advantages and disadvantages to consider when deciding between a revocable living trust and a will for your estate planning needs. A Fremont estate planning lawyer can help you determine which the best option in your case, whether it be a will or a living trust, and help you draw up these documents, ensuring that your final wishes for your property and assets are carried out as you directed.
A revocable living trust, also known as a living trust, has gained popularity in recent years. This is because a living trust does not have to go through probate after the individual passes away. Probate court can be costly, usually costing about 3-10% of the value of the estate, and can take as much as 2 or 3 years to have properly settled. When you set up a living trust, you are the Trustee. However, you also name a successor, so that when you pass away, the estate passes to the successor, who will then carry out the terms directed within the trust. In this way, the assets pass on to the beneficiary immediately without being held up in probate court.
One of the major advantages to having a will is that your estate does not transfer out of your hands at any point. In a living trust, your estate will be transferred to the trust. A will must go to probate court after your death. Larger estates can take much longer to get through probate, years in some cases. Making decisions about how to arrange your estate is an important matter; you need to have legal counsel that can advise you and give you accurate information upon which to base your decisions.
Call Us Today To Establish Your Estate Plan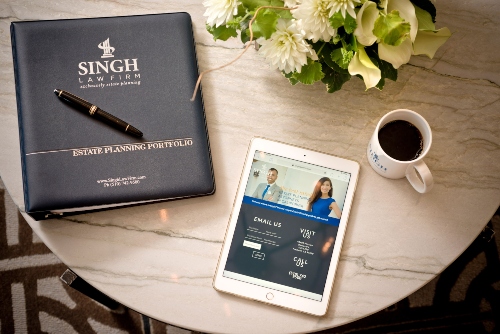 At The Singh Law Firm, we understand that you probably have many questions about the differences between these two options, revocable living trusts and wills. We look forward to meeting you and assisting you in every way we can in the estate planning process.
With years of experience handling all aspects of probate law, including pour over wills, living trusts, and other types of estate matters, we are qualified to assist you and make the process easy to understand. We know how important your estate planning issues are, and we are prepared to carefully craft a plan that fits your situation and your wishes for your estate.